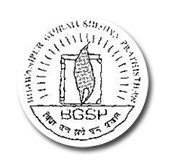 Bhawanipur Gujarati Shishya Pratishthan announces 2nd Distinguished Alumni Award
The dispirited sight of many a student without school uniforms, worn out shoes and tattered text made Shri Amar Seth, an ex-student of our Institute (year 1966) and an active member of the Central Committee of BGES, realized the need to form an Alumni of the School in the year 1 983-84 with two-fold objective of -
Extending financial support to needy Gujarati students of this Institute.
Creating an environment for the ex-students of various batches to work together for the benefit of the present batches
Amar Seth shared his idea with like-minded ex-students and friends Ushakant Parekh, Harshad Jasani and Shri Rashmi Sheth, all of whom assured their co-operation. The idea was then discussed with Shri Harshadbhai Naik (Secretary of the Society), Shri Pareshbhai Rajda and Shri Niranjanbhai Thakkar (Joint Secretaries looking after the School). The three of them being ex-students of the school, supported the cause whole-heartedly. Advice was also sought from Shri Kanubhai Bhalaria, Shri Harshadbhai Valia and Shri Mangaldasbhai Shanghavi, all of whom supported the idea and assured full cooperation and guidance.
Finally Dr. Nalinbhai Patel, 'Guruji' to all, was approached, and at an informal meeting of eighty odd Ex-students, the Alumni were christened "Bhawanipur Gujarati Sishya Pratishthan" by Guruji. On Guruji's advice, an ad-hoc committee was created under the Chairmanship of Amar Seth. Shri Niranjan Thakkar, Joint Secretary of the School and the Principal were also invited as ex-officio members.
The members of the then ad-hoc committee are enlisted below:
» Shri Amar Seth, Chairman of the Committee
» Shri N. C. Thakkar, Ex-Officio - Jt. Secretary of JJ.Ajmera High School
» Shri Ushakant Parekh
» Shri Rashmikant D. Sheth
» Shri Dilip Ganatra
» Shri Niranjan Pipalia
» Dr. Pragna Doshi
» Shri Bharat Mehta
» Shri Dilip B. Desai
» Ms. Sadhna Shah
» Smt. Sarla S. Gorsia
» Ms. Pranoti Parekh
This ad-hoc committee worked towards the achievement of the basic objec¬tives, and the first group of office bearers were nominated in the year 1984.
» Shri Harshadbhai Naik, President
» Smt. Sarla S. Gorsia, Vice President
» Shri Amar Seth, Hon/. Secretary
» Shri Bhupen Sheth, Hony. Jt. Secretary
» Shri Ushakant Parekh, Treasurer
» Thereafter, in 1987, a new set of office bearers were nominated
» Smt. Sarla S. Gorsia, President
» Shri Amar Seth, Vice President
» Shri Ushakant Parekh, Hony. Secretary
» Shri Jitendra Shah, Hony. Jt. Secretary
» Shri Harshad Jasani, Treasurer
In the year 1994, there was another alteration in the designations. The office that was then formed Continues in operation till date, aided by the dedicated members of the Executive Committee.
» Shri Ushakant Parekh, President
» Shri Amar Seth Vice President
» Shri Harshad Jasani, Vice President
» Shri Jitendra Shah, Hony Secretary
» Shri Umesh Thakkar, Hony Jt. Secretary
» Shri Rashmikant D. Seth, Treasurer
Executive Committee members -
» Pradip Sheth
» Kumud Mehta
» Bipin Shah
» Praful Shah
» Chetan Mehta
» Nitish Vora
» Yogesh Doshi
» Pranav Jani
» Hemantika Puri
» Ranjan Bhatt
» Nitesh Soni
With the two-fold aim addressed by Shri Amar Seth at its inception, BhawanipurGujarati Sishya Pratishthan (BGSP) has moved forward through the years, organising and actively participating in myriad events, many of which have been fund-raiser programmes in earlier years.
? BGSP had arranged innumerable career-guiding lectures for senior students of the Institute.
? It had sponsored school students for computer courses.
? Regular medical check-ups had been organized for the pupils.
? The colorful 'Raas Garba get-together' on Sharad Purnima, held at the school ground had become an annual event we all look forward to, thanks to the BGSP.
? The 'Anand Bazaar', with the sale of lottery tickets was another mega event organized by this establishment.
? BGSP is responsible for arranging the get-together and Alumni dinner at the Annual General Meeting.
? It also arranges sports tournaments and projects on World Cup Cricket, World Cup Soccer and Olympics.
? BGSP has remembered not only the students, but also the dedicated personnel and minds behind this organization. In the past, it has honored
a) Guruji, Dr. Nalinbhai Patel
b) All the senior Committee members and Trustees who have given their selfless service for more than 25 years to the BGE Society Shri Bhaktibhai Shri Chhotubhai Thakkar, Shri Harshadbhai Vafia, Shri Harshadbhai , Late Shri Kanubhai Bhalaria, Shri Kanfibhai Ajmera, Shri Mangaldas vi, shri Pareshbhai Rajda and Shri Rasikbhai Doshi.
c) The successful and donor ex-students who have helped the BGSP to sustain its noble cause, Shri Chandravadanbhai Desai, Shri Dilipbhai Shanghavi, Shri Dilipbhai B. Desai, Shri Hasmukhbhai Patel and Shri Kumarbhai Sheth.
d) The School
? Yearly scholarship is also awarded by the BGSP to three meritorious ex-students for higher technical education, from the interest income of donation received from the family of Shri Rasikbhai Doshi (wards Dilip, Naren, Vasundhara, Parimal) in memory of late Sarojbehn Doshi.
? Regular donation from London based Bhaguite Bharat Parikh arenoteworthy.
? Year after year, BGSP has distributed and still continues to distribute uniforms with shoes, text and exercise books to all the needy students of the school up to class X and session fees up to Primary level.
The organization started with a Life Membership of only Rs.250/-, which was subsequently increased to the present fee of Rs.500/-. Student and Annual Membership, however, has been discontinued with.
The membership strength was only 378 till 31.03.02 this increased by leaps and bounds thereafter, crossing 1350 members, largely due to the Platinum Jubilee Celebrations and the batch-wise meetings arranged for the purpose. The BGSP now proudly holds over 350 outstation and overseas members.
It is heartening to note that BGSP is a well knit team capable of organizing big and important events like Platinum Jubilee Celebration with active participation of all Office Bearers duly supported by young and energetic members like Pradip Sheth, Chetan Mehta, Nitesh Soni, Nitesh Vora, Pranav Jani, Dhananjay Pathak, Yogesh Doshi, Snajay V. Shah, Bharat Bhatt, Bipin, Hemantika Puri, Aditi Shah, Malvi Mehta, Hemali Mehta, Ranjan Bhatt and many others.
Cardinal objective of supporting the financially challenged students continues and this noble action of the BGSP has been appreciated by all who know of it. To further the assistance and extend our support to the cause, it has been decided to create a corpus of Rs.50 Lacs this year, so that the organization can continue with its primary objective unhindered. The present yearly financial output is estimated to be around Rs.4 lacs and the corpus will further help to sustain the same.
All the ex-students, therefore, are earnestly requested to lend their support by donating to the corpus to keep the Bhaguites' flag flying high with pride.